"The charm of the big spaces does not leave insensible although we find the slightest details of a beloved freedom there. The tracks of an ardent sky setting on fire softly the Colorado, New Mexico or rocky are so many festivities for the eye and the paintbrush. Alain Lutz gathers in them on the pictorial palette of his memories to transcend them better.
"To believe that the American dream for this artist amounts to the only at the same moment impressive and discreet beauty of these infinite spaces instead of perpetual dumped "self made man "that this young continent propagates. Only for the happiness of eyes, that would be a disadvantage to give him reason. Extracted from "Arts News Magazine" by Harry KAMPIANNE
"L'attrait des grands espaces ne laisse pas insensible pour peu qu'on y retrouve les moindres détails d'une liberté chérie. Les traces d'un ciel enflammé incendiant avec douceur le colorado, le nouveau Mexique ou les rocheuses sont autant de réjouissances pour l'œil et le pinceau. Alain Lutz les engrange sur la palette picturale de ses souvenirs pour mieux les transcender.
"A croire que le rêve américain pour cet artiste se résume à la seule beauté à la fois impressionnante et discrète de ces espaces infinis au lieu du sempiternel cliché"self made man" que propage ce jeune continent. Rien que pour le bonheur des yeux, ça serait un tort de ne pas lui donner raison. Extrait de "Arts Actualités Magazine" de Harry KAMPIANNE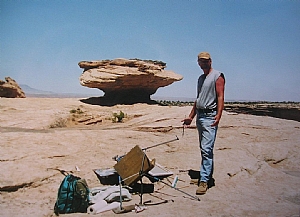 ---